WANT TO ENJOY ALL THE FREEDOM OF A RENTAL LASTING SEVERAL MONTHS?
(except July & August)
We have THE solution : 
rent a mobile home (or chalet or tent) or a pitch from 01/04 to 02/07 and from 02/09 to 05/11.
Wondering what the advantages are? We can help with the answer to that question:
– You arrive on the 1st of April in reception, get the key and your access badge until July 2nd. No need to return to reception. You can come and go as and when you please throughout that rental period.
The same applies to the second rental period.
– No need to clean up when you leave. Cleaning is compulsory, however, before you return the keys on your departure on the 2th of July, then on the 5th of November.
– You can make your mobile home or your pitch, your holiday home in Soustons, by leaving your things, your photos, your atmosphere.
– No need to arrive and leave loaded. Leave all your holiday essentials right here!
– The package includes water, electricity and access to the swimming pool. It does not include the tourist tax which is to be paid at the end of each period (0.66 cents per adult per day)
In mobile home or chalet or tent

Enjoy a chalet, a 2 or 3 bedroom mobile home or a lodge or safari tent in a natural and relaxing setting.
Reminder of the periods: from 01/04 to 02/07/2023 then from 02/09 to 05/11/2023
Pitch with electricity in a natural and wooded area.
Reminder of the periods: from 01/04 to 02/07/2023 then from 02/09 to 05/11/2023
.
Need more information and would like to join our residents' community? Don't hesitate to contact our staff.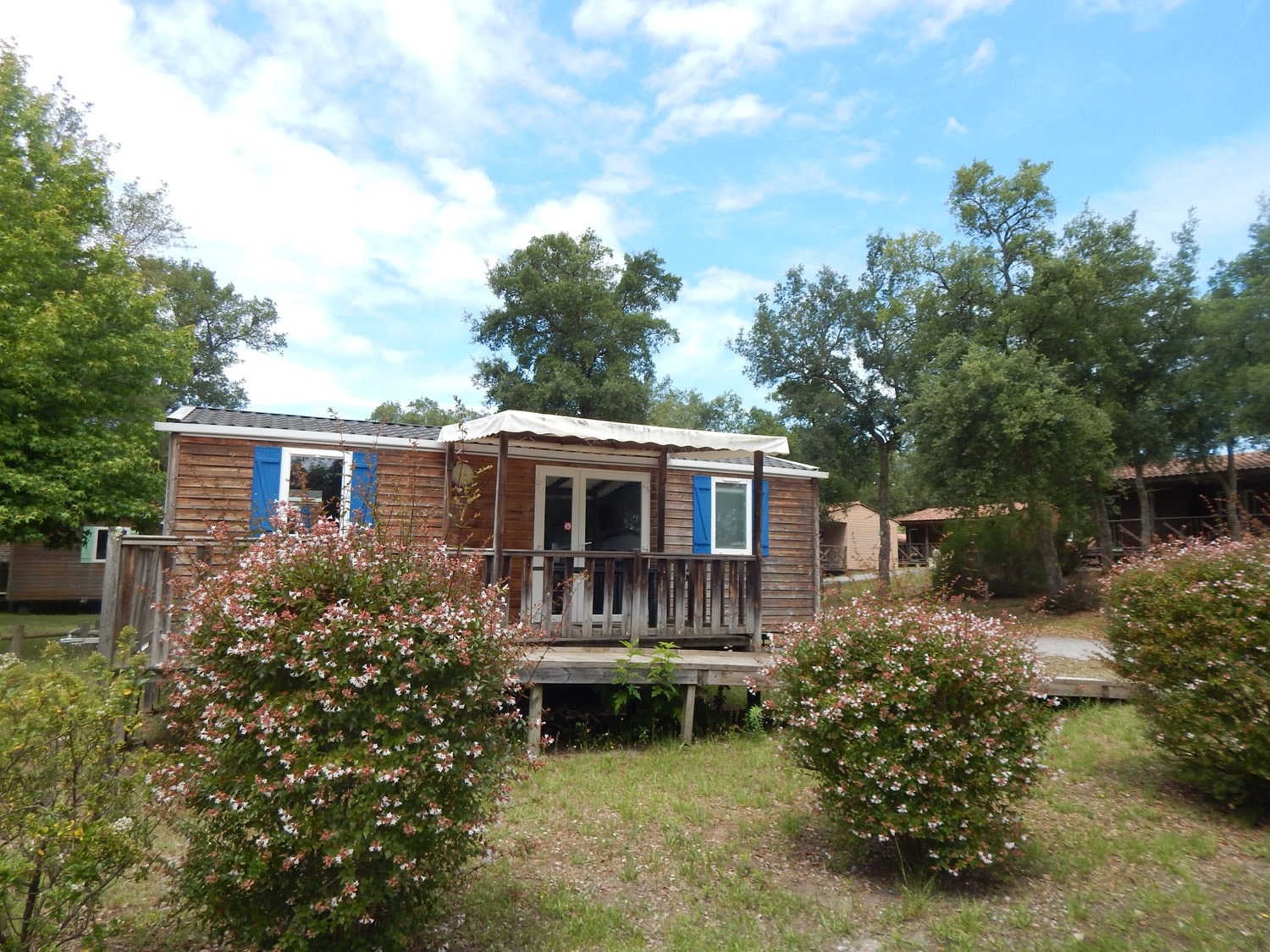 The reservation of these rentals in the Landes forest also gives you access to our aquatic area with heated indoor pool and outdoor pool, paddling pool, slides and water games.
Ideally situated, our family campsite under the pines is on the banks of Soustons lake, right by the Atlantic Ocean and its beaches of fine sand, as well as the cycle paths and footpaths. A host of outdoor sports activities await you, like surfing, golf, mountain biking, etc.
When you stay at the Airial campsite,
you can be sure of enjoying an absolutely memorable holiday in Landes,
in a lush green setting that oozes with tranquillity.
You may also be interested in…