The restaurant
Because we want your holiday to be perfect, our 4-star campsite in Soustons-Lac has its own restaurant which doubles up as a Basque bodega and a cocktail bar. Open every day non-stop, this gourmet hotspot offers eat-in and takeaway options.
La Kantxa
serves delicious food at any time of day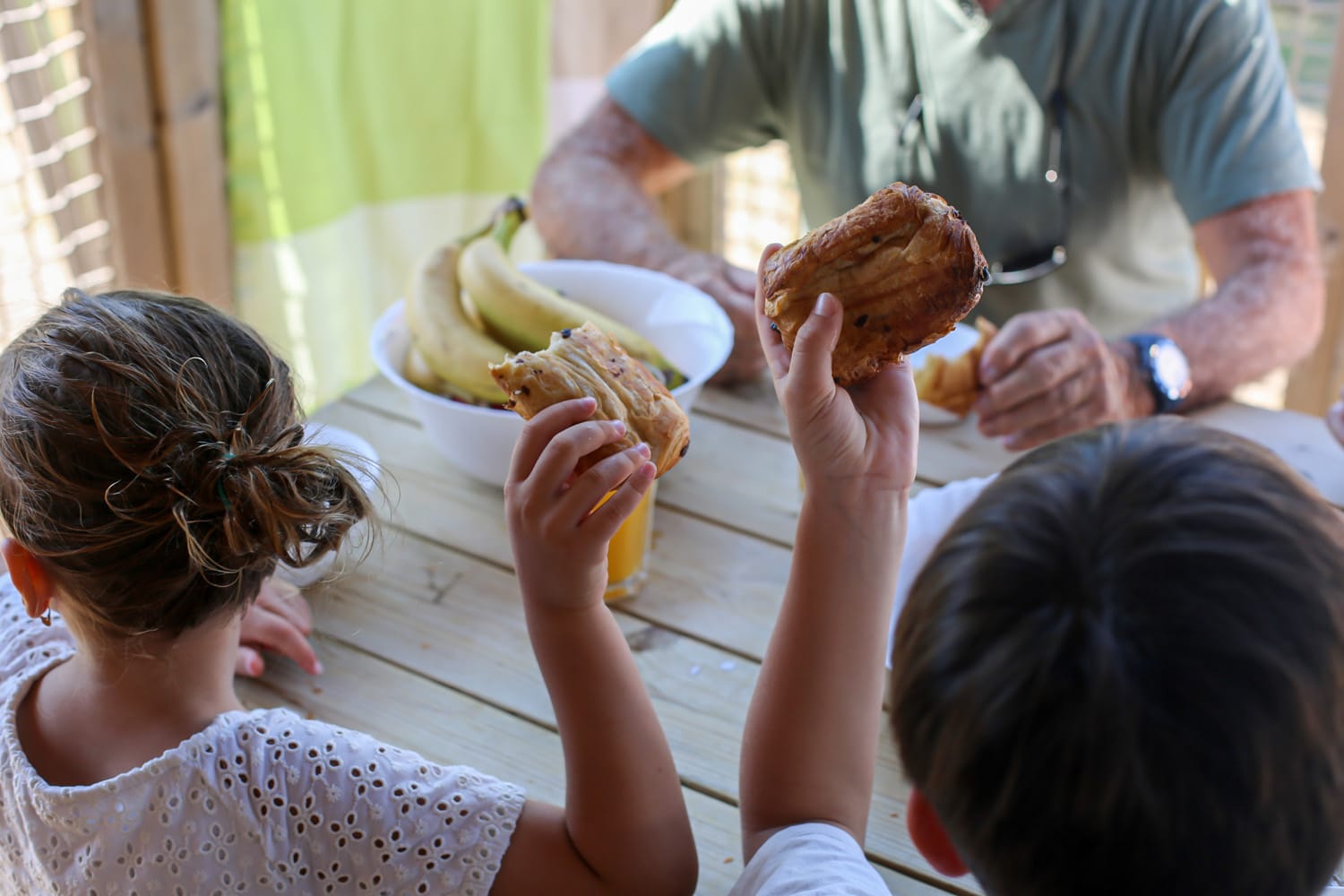 It opens in the morning, to serve coffee, croissants and fresh fruit juice as the sun begins to warm up the atmosphere and bring the campsite to life… Unless of course you just came to buy a fresh baguette?
At lunchtime, you can enjoy grills, salads and typical regional dishes outside on our vast sunny terrace.
At any time of day, you can come to quench your thirst with family or friends.
For an afternoon snack, children and adults can enjoy our delicious crêpes or Italian ice cream. The swimming pool is just the place to work up an appetite!
In the evening you can take the time to savour a friendly dinner and the pleasant climate of Landes.
Good to know
Our restaurant is also open to people from outside the campsite.
When it's time for drinks, you'll love sharing a plate of tapas with your friends, family or loved one. This is also the perfect time to enjoy a nice cool beer, a glass of wine, or even try something from our cocktail list.
Can't wait to go to the beach?
We also serve sandwiches, hamburgers, paninis, pizzas and other fast-food options.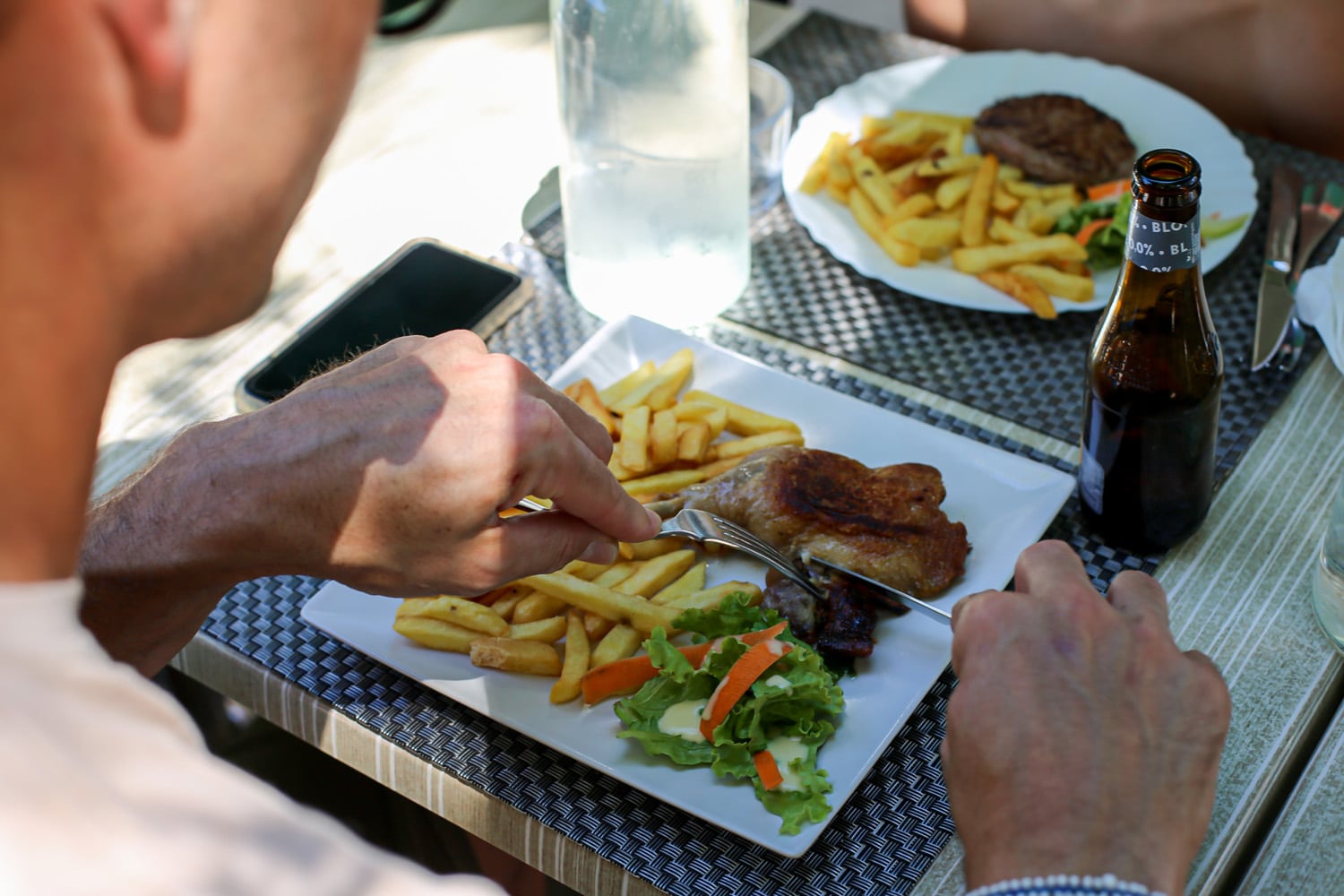 Heritage dishes
Landes has an extraordinary culinary wealth. So local and seasonal products take pride of place.
This makes your stay at the Airial campsite an ideal opportunity to introduce your tastebuds to an alternative gastronomy. Time for duck breast fillet, foie gras, garbure, squid stew, pastis, tourtière and other local specialities! Not only that but, with the Basque country and Spain being so close, we celebrate their culinary traditions here too. So prepare to try piperade, axoa, txistorra and Iberian ham.
AOP* (PDO) products of Landes
* Appellation d'Origine Protégée (Protected Designation of Origin)
Landes is now the French department boasting "the highest number of food products officially recognised for their quality". Among these are:
sand-cultivated asparagus from Landes
kiwis from the Adour valley,
beef from the Chalosse region,
farm duck from Landes,
farm poultry from Landes,
Armagnac,
Floc-de-Gascogne,
Tursan wine.
Your holiday in South West France will be the perfect occasion to try all of these delights.
Theme parties
The bar & restaurant sets the pace for your holiday with paëlla parties, Basque chicken evenings and other gourmet events.
We recommend you book ahead as these events are always very popular.
Marinaded anchovies, sardines, Assortment of charcuterie (serrano ham, chorizo, dried lomo), Piquillos (sweet chillis) stuffed with cod brandade and the house sauce, Chipiron (squid) fricassee, House piperade, serrano ham & fried egg, Duck confit, chips and salad, Axoa of veal with potatoes, Lomo, fried egg, salad and chips, Bacon cheeseburger with chips
You may also be interested in…